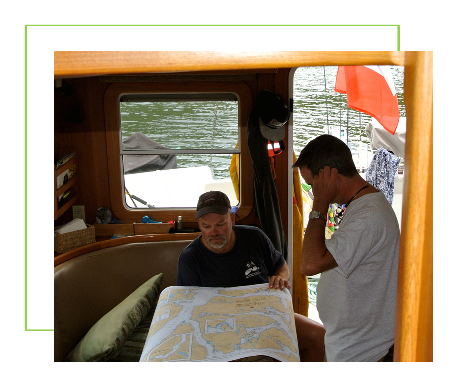 Your charter will be led by either Rob or one of our qualified Captain's who will do everything to make your trip spectacular, including hands on experience, gently guided learning, wildlife viewing, and even stories of the sea!
Read More
Rob Langford, Owner/Captain: Rob has been a boat owner since the age of 11. Rob and his wife Vickie, together with boys Damon and Braden, spend almost all of their free time aboard 'Due North'
An experienced mariner with many solo trips to his credit including the circumnavigation of Vancouver Island, Rob has boated the West Coast from Mexico and California to Northern B.C.
There is nothing Rob enjoys more than "simply messing about in boats…" whether that is fishing, prawning, beachcombing, gunkholing or cruising.
When not running charters on 'Due North', Rob is a Certified Professional Yacht Broker with Yacht BC Yacht Sales.
Read about Rob's 2012 trip around Vancouver Island as published in Passage Maker: Click Here
Read More
Chartering Due North gives you the opportunity to have the 'owners experience' and try before you buy